There could be three Wales Rugby League developed players in the Challenge Cup Final for the first time, after Gil Dudson, Elliot Kear and Rhys Williams were all named in Salford Red Devils' 21-man squad to face Leeds Rhinos at Wembley Stadium this Saturday (kick-off 3pm).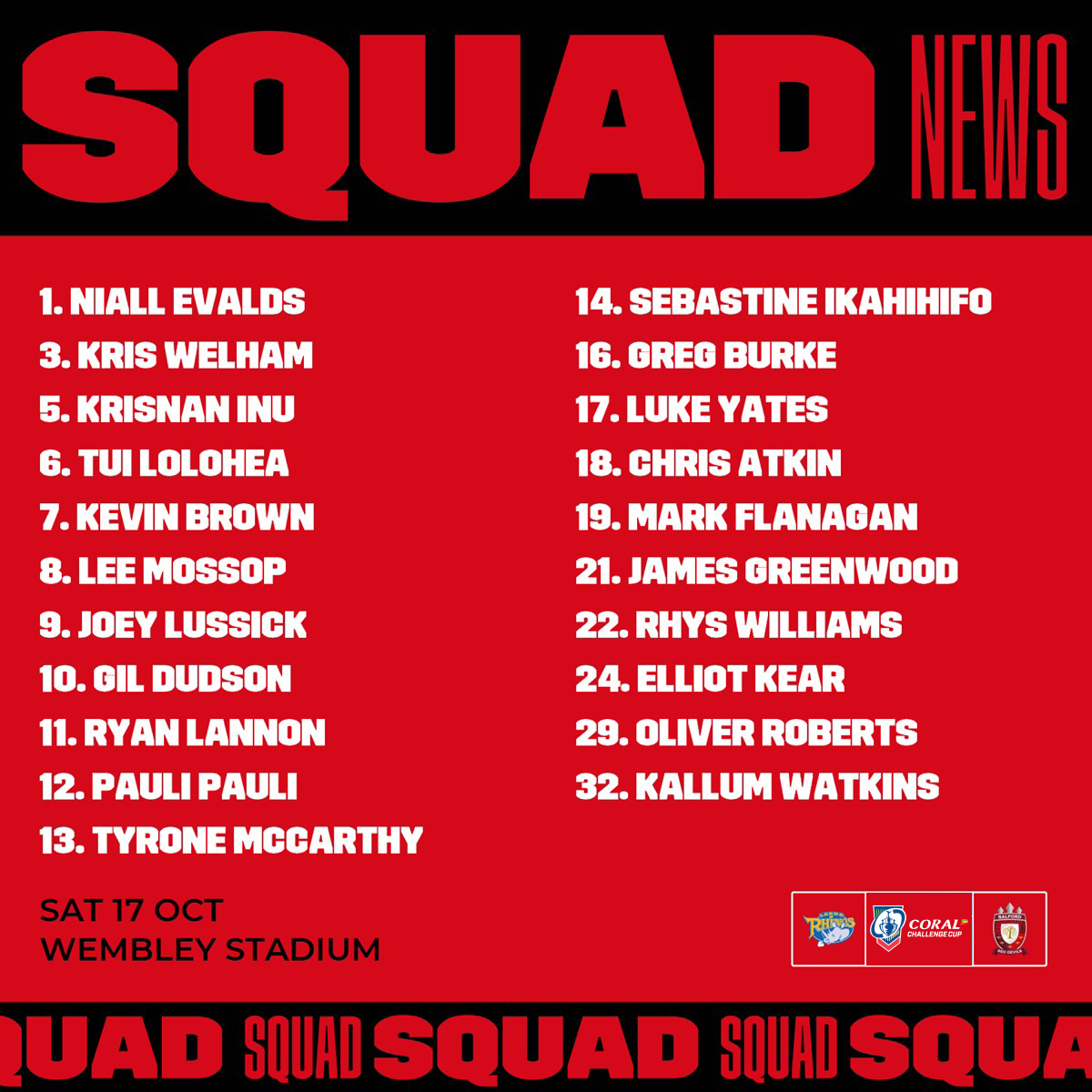 The last time there were three Welsh born players in the final was in 1979, when Jim Mills and Glyn Shaw of Widnes faced up against now current WRL chairman Brian Juliff, plus the Welsh heritage player Trevor Skerrett, who were both playing for Wakefield.
In 1976, we had five Welsh internationals playing for St Helens, four of whom were Welsh born in Roy Mathias, John Mantle, Kel Coslett and Mel James, who were alongside Eddie Cunningham.
Dudson was last in the Final in 2013, along with Ben Flower, as the showpiece event saw the first Welsh born player in 17 years – Scott Gibbs starring in St Helens' 1996 win.
In between those dates, there were many other Wales internationals who played in the Final, all heritage players, and it's just in the last decade where we've seen the emergence of true Wales Rugby League developed internationals from youth.
Last year, Regan Grace and Morgan Knowles, both of whom came through the WRL youth system, played for St Helens, whilst Rhys Evans, a Champion Schools winner with Brynteg aged 12 in 2005, was in the 2016 Warrington Wolves side.
Now the Salford trio, all of whom were junior internationals with Wales before going on to win full caps, are looking to become the first Welsh internationals in seven years to pick up a Challenge Cup Final winners medal.
Gareth Kear, the Wales Rugby League CEO, will be in the press box for WRL on Saturday, reporting on social media, and for the wider Welsh media, which will include regular updates on the radio for GTFM's "The Season Ticket" show from 2pm.
He said: "To have three Welsh born and bred players in the Challenge Cup Final confirms the huge amount of talent that is in Wales. Our new National Development Academy partnership with Salford Red Devils and Coleg y Cymoedd will ensure that future generations of players from South or North Wales will have enhanced opportunities to fulfil their potential. The Challenge Cup Final will be a great day for Wales Rugby League and a proud one for me."
Here is a list of all Welsh internationals to play in the Challenge Cup Final since 1975, which is when Wales relaunched their international side to play in the World Cup for the first time…
2019 St Helens – Regan Grace, Morgan Knowles
2016 Warrington – Rhys Evans
2013 Wigan – Ben Flower, Gil Dudson
2012 Warrington – Lee Briers, Garreth Carvell
2010 Warrington – Lee Briers, Garreth Carvell
2009 Huddersfield – Keith Mason, Warrington – Lee Briers
2008 St Helens – Keiron Cunningham, Hull – Garreth Carvell
2007 St Helens – Keiron Cunningham
2006 St Helens – Keiron Cunningham
2005 Hull – Garreth Carvell
2004 St Helens – Keiron Cunningham, Keith Mason
2002 St Helens – Keiron Cunningham
2001 St Helens – Keiron Cunningham, Anthony Sullivan
2000 Leeds – Iestyn Harris, Anthony Farrell
1999 Leeds – Iestyn Harris, Anthony Farrell
1997 St Helens – Keiron Cunningham, Anthony Sullivan, Chris Morley
1996 St Helens – Keiron Cunningham, Anthony Sullivan, Scott Gibbs
1995 Wigan – Kelvin Skerrett, Martin Hall, Neil Cowie, Paul Atcheson, Leeds – Richie Eyres
1994 Wigan – Kelvin Skerrett
1993 Wigan – Kelvin Skerrett, Widnes – John Devereux, Jonathan Davies, Richie Eyres
1992 Wigan – Kelvin Skerrett
1991 St Helens – Jonathan Griffiths
1987 Halifax – Brian Juliff
1984 Wigan – Brian Juliff
1983 Hull – Trevor Skerrett
1982 Hull – Trevor Skerrett, Paul Prendiville, Widnes – Eddie Cunningham
1982 (replay) Hull – Clive Sullivan, Trevor Skerrett, Paul Prendiville, Widnes – Eddie Cunningham
1981 Widnes – Eddie Cunningham, Glyn Shaw
1980 Hull KR – Clive Sullivan, Hull FC – Paul Prendiville
1979 Widnes – Jim Mills, Glyn Shaw, Wakefield – Brian Juliff, Trevor Skerrett
1978 St Helens – Roy Mathias, Bill Francis, Mel James, Eddie Cunningham
1977 Widnes – Jim Mills
1976 St Helens – Eddie Cunningham, Roy Mathias, John Mantle, Kel Coslett, Mel James
1975 Widnes – Jim Mills, Warrington – John Bevan, Bobby Wanbon, Mike Nicholas